In the past, red snapper was a federally regulated species. The season was very short and required expensive permits for charter boat captains. In recent years, Louisiana has instituted a state season which allows recreational anglers a lengthy season within state waters. The vast majority of state waters do not provide the depth needed to consistently hold keeper sized snapper. However, Venice is different because the delta extends many miles into the gulf allowing us to access deep water and still be within state boundaries. This has been a tremendous bonus to our inshore clients as we are now able to fish red snapper in combination with our regular inshore charters.
The red snapper is an extremely tasty fish and a very hard fighter. The techniques that we use allow us to use lighter tackle than what is traditionally used for deep sea bottom fishing. This allows our clients to actually fight the fish rather than crank them off the bottom with huge traditional gear. The limit on snapper is 2 per person (NO Captain's limit) with the minimum length being 16'. Most people are happy to have a limit that are "just legal". However, we target snapper that average 10 to 20 pounds! We run nearly 100% on our snapper limits!
Usually this season runs February to October, but is very weather sensitive due to fishing open water in our inshore vessels. Depending on the areas we are fishing other inshore species, we may not be within a reasonable distance to also fish snapper. Due to weather and distance factors, the option to fish for snapper is always left up to the Captain's discretion.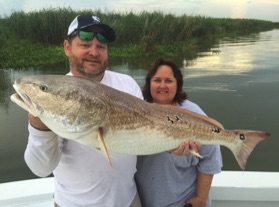 Venice, Louisiana along with Lake Ponchartrain and Lake Calcasieu are considered the premier destinations for Trophy Speckled Trout. However, Venice, Louisiana exceeds those other locations in that not only does it produce quality speckled trout but it also produces quantity not to be exceeded. During my best year ever, my clients caught over 12,000 speckled trout with a stretch of limits that extended 21 straight days!!! Although every year is different, Speckled Trout season typically begins in March and runs through Summer. Early Spring is usually a slower artificial bite that lasts throughout the day. As Summer approaches, the schools become tighter and the bite shifts more to early morning and late evening. At this time we begin leaving VERY early, often before the marina even opens and start using live bait. It is not uncommon to boat 100 fish by 7am!
If tackle busting redfish are your game, Venice, Louisiana should be your playing field. The Mississippi River delta holds the worlds largest population of redfish. They simply flourish with the abundance of habitat and brackish environment. Catching 75-100+ redfish a day is not uncommon...it's the norm! Two ladies once boated 236 redfish in one day while fishing with Captain Brandon.
Redfish come in two different categories, slot reds and bull reds. Slot reds are your average sized "schooly" fish. They generally run 4 - 10lbs and are the perfect eating size. The action on these is usually fast and furious, but don't be fooled, these fish put up one heck of a fight. Think bass on a double dose of steroids!
Bull reds generally run 12 - 30 lbs. with some going 40 - 50 lbs! These are normally catch and release fish as they are not very tasty, but they will give you the fight of a lifetime! The great thing about redfishing is there is no off-season. Redfish are readily available 365 days a year and are not as weather sensitive as Speckled Trout.
*Although we do catch bull reds all year, mid-August through October is the peak of the "bull red run".*