and corporate charters where providing a fun professional atmosphere is a must. Captain Brandon's reputation has been thoroughly recognized in numerous publications. Articles featuring his expert advise, tactics, and techniques have appeared in the Los Angeles Times, Louisiana Sportsman Magazine and website, Marsh and Bayou magazine, Times Picayune/Nola.com, Gulf Coast Fisherman, and The Advocate. Captain Brandon was also selected as one of the top 10 captains in the state of Louisiana, and the only captain from Venice, to be featured in the book Trout Masters Too: How the Pros do it.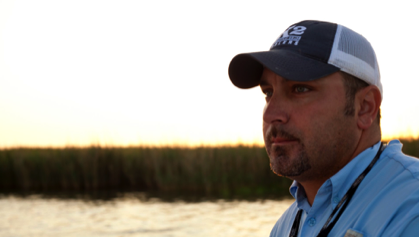 "My first impression when I looked into the
piercing blue-green eyes of Captain
Brandon Carter was that I was face
to face with a predator...those
eyes look like they belonged in a
velociraptor."
~Jerald Horst, Author,
Trout Masters Too: How the pros do it
Captain Brandon Carter is a man obsessed with finding fish. Beginning as a child, people noted his brain didn't work like other kids.  He wasn't interested in cartoons, games, or toys, for him it was plastic worms, jigs, rod and reels and tackle boxes.  "As early as I can remember, all I ever wanted to do was catch a fish. It's a program embedded deep in my brain. I can't help it. Growing up, I didn't want toys or even a birthday party, I wanted somebody to take me fishing."  Now 25+ years later at the relatively young age of 38 Captain Brandon has cemented his name alongside some of the most successful charter boat captains in Louisiana Inshore fishing history.  "I began taking people fishing at the age of 19 and by the time I was 21, guiding was my full time job....despite the fact I had just graduated college."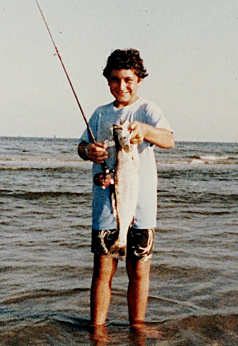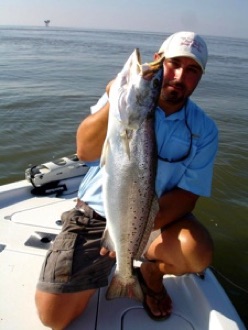 "Catching fish is a large part of this business.  People
book charters with me to catch fish.  But at the end of the
day they have to enjoy themselves.  I have a certain way
things need to be done, but I have never, nor will ever
compromise the way I treat my clients"  As they say,
"the proof is in the pudding" and Captain Brandon has built a large and diverse client base.  He has been able to
not only satisfy local clients who know how good the
fishing is and thus have high expectations, but also family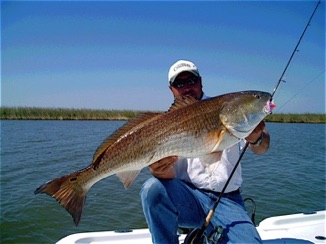 "Early in my career I spent a lot of time fishing tournaments and
rodeos.  I was ultra successful winning trophies, cash and even
boats! But those days are kinda over for me.  Now my focus is 100%
on customer satisfaction.  I want my clients to have the fishing trip
of a lifetime....EVERY TIME!  When I fall asleep at night and when I
wake up in the morning, I'm thinking about where I can go or what I
can do to maximize the amount of fish my customers put in the boat.
And I truly mean that I want my customers to put the fish in the
boat. Ideally, I won't personally catch a fish all day". As much success
as Captain Brandon has enjoyed, one might expect him to have a dry
personality and fussy about everything being done right, only
focussing on the catch. Quite simply this is not the case.