"I don't just rely on the reputation of the area that I fish, I rely on the reputation that I have created over the last decade. Everyday my goal is to put more fish on the dock than anyone else." ~Capt. Brandon Carter
Owner and Operator, Reel Shot Guide Service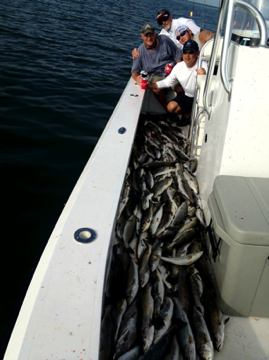 All Rights Reserved, Reel Shot Guide Service, Inc.
Reel Shot Guide Service is located in the Mississippi River Delta, the most prolific fishery along the United States coast. In fact, Venice, LA is one of the most sought after fisheries in the entire world.
In the last 14 years, Capt. Brandon Carter has established Reel Shot Guide Service as one of the elite inshore services in this ultra-rich fishing ground. Whether you are local or out-of-state, your trip is family or business, Capt. Brandon can provide you with the professional services that fit your needs and exceed your expectations.
Marsh Coastal Fishing in Louisiana is among the finest fishing found anywhere in the world. As a life-long Louisianan, I have had great success fishing many areas of the state, however there is no place like Venice. It is the pinnacle!
We don't just rely on the quality of the fisheries. Before you arrive, we do everything to stack the odds in your favor to ensure that you have a quality experience from start to finish. This is what separates Reel Shot Guide Service from the rest and makes us the best!
~ Capt. Brandon Carter